Access to medicines and treatments
FixRx is a buyers club offering discounted prices on prescription medications.
The mission of FixRx Buyers Club is to help patients access authentic brand name and quality generic medicines at an affordable cost. FixRx is brought to you by the team at FixHepC which is internet famous for being the first site back in 2014 to facilitate access to effective generic alternatives to the modern and outrageously expensive Hepatitis C cures. Over the past seven years we have built up some great relationships with authorized pharmaceutical distributors in countries where drug costs are low, and achieved delivery to over 160 countries.
You will require a doctor's prescription to access medication from FixRx.
The learn more please visit their website here: https://fixrx.com/
NZ Therapy for CLL:
The following list is a brief outline of therapy available for CLL in New Zealand.
Funded drugs:
Fludarabine, Cylcophosphamide, Rituximab [FCR]: First line treatment for younger (<70 years) and fitter patients. Fludarabine and cyclophosphamide is given orally but may also be given intravenously. Rituximab, an antibody treatment is given by IV infusion. The treatment is administered once per month for up to 6 courses depending on tolerability and response. 20% of patients (<70 years) may experience a long-lasting remission and even possible cure. Treatment can be repeated for patients who relapse 3 years after initial treatment and are likely to tolerate it.
Bendamustine and Rituximab: Funded for older (>70 years old) or less fit patients. Both drugs are given on a monthly basis by infusion for up to 6 courses. Not as toxic as FCR but not as effective generally.
Chlorambucil and Obinutuzumab: Funded as first line treatment for older and less fit patients who are unlikely to tolerate Bendamustine and Rituximab. Chlorambucil is an oral treatment that has limited effectiveness as monotherapy. Obinutuzumab is an antibody which increases the effectiveness of the chlorambucil and is given as an infusion. Treatment is generally for 6 months.
Venetoclax:  Funded as first line treatment for patients with del17 or p53 mutation who need treatment or for patients who relapse within 3 years of receiving initial treatment, not containing Venetoclax. It is well tolerated, given orally and has good efficacy particularly for poor prognosis patients. In the case of relapsed patients it is combined with 6 infusions of Rituximab given  monthly and is funded for up to 2 years. When treatment is started there is a risk of cell lysis which can cause kidney problems particularly and so it is usually introduced gradually with fluids.
Ibrutinib: Funded for patients with del 17 and p53 mutations who cannot tolerate Venetoclax, whose disease progresses within 3 years of receiving Venetoclax, or have received a previous immunochemotherapy regime, relapsing within 3 years and have not tolerated Venetoclax. Ibrutinib is an oral treatment and is generally well tolerated. Also has high effectivity particularly for patients with poor prognostic features.
Cyclophosphamide/ Adriamycin / Vincristine and Prednisone (CHOP): Funded for patients with Richter's Transformation (progression of CLL to high grade lymphoma).
Campath (Alextuzumab) has been used for some patients with p17 deletion.
Other non-funded drugs:
Ofamtumumab, not funded treatment. Monoclonal antibody may be used as alternative to Rituximab
Pi3 kinase inhibitors: e.g., idelalisib, good responses given orally but severe toxicities particularly colitis.
Derivatives of Ibrutinib e.g., Zanubrutinib and Acalabrutinib, good effectiveness with potentially less toxicity
CAR T cell therapy: Still in development, showing promise in lymphomas and possibly CLL
Useful links to medicines information

Information for New Zealand patients prescribed VENCLEXTA in combination with rituximab by a healthcare professional.
---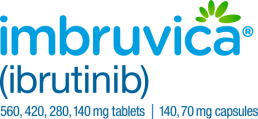 Consumer and datasheet Information for New Zealand patients prescribed Imbruvica.